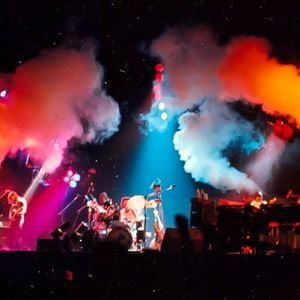 A mix of one of my all-time favourite bands, PINK FLOYD.
Not really a "Best Of" mix, but rather a re-imagining of their catalogue.
ALBUMS:
Dark Side Of The Moon [1973]
Wish You Were Here [1975]
Animals [1977]
The Wall [1979]
The Wall [1982] The Movie
Spare Bricks [1983] proposed album that ended up as ...
The Final Cut [1983]
Thanks to the
Neptune Pink Floyd website
for some sequence ideas for the second half of this mix, which is based on an unreleased album titled "SPARE BRICKS".
1 Shine On You Crazy Diamond, parts 2, 4 & 7
2 The Travel Sequence
3 Dogs
4 Wish You Were Here (alt version) feat Stéphane Grappelli
5 Pigs On The Wing, part 1
6 Pigs (3 Different Ones)
7 Pigs On The Wing, part 2 feat Snowy White
8 Sheep (early version)
9 Breathe
10 Any Colour You Like
11 Breathe (reprise)
12 Time
13 Money (1981 version)
14 Brain Damage / Eclipse (alt mix)
15 When The Tigers Broke Free, part 1
16 Your Possible Pasts
17 One Of The Few
18 Hero's Return
19 When The Tigers Broke Free, part 2
20 Mother (from The Wall film)
21 What Shall We Do Now (from The Wall film)
22 Another Brick In The Wall, part 3 (from The Wall film)
23 Paranoid Eyes
24 Hero's Return, part 2
25 Bring The Boys Back Home (from The Wall film)
26 The Fletcher Memorial Home
27 In The Flesh (from The Wall film) feat Bob Geldof
28 The Final Cut
29 The Show Must Go On
30 It's Never Too Late