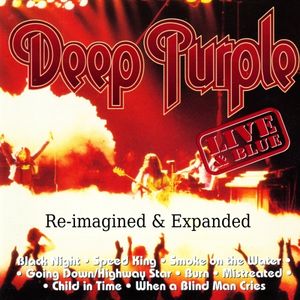 A re-imagined and expanded mix of a live compilation CD released in South Africa-only in 1996.
Original CD: tracks 4, 1, 10, 11 (listed, but not included), 12, 6, 9, 2, 13 (studio version)
The original CD is a compilation of live tracks (and one studio release) released in 1996 in South Africa only. There are a number of mistakes in track timings, cover art and general info, but don't let this distract you from a great listening experience. The CD was compiled from 3 Connoisseur Collection live CDs, plus the studio out-take (and b-side) "When A Blind Man Cries".
According to the album cover, Glenn Hughes and Tommy Bolin are both left-handed guitarists. This is the same photo as on "Foxbat", just reversed and with a different logo style. The title on the cover is "Live & Blue", but on the spine it says "Out Of The Mists Of Time" (and on the actual disc the title is "The Deep Purple Connection"!).
Track list
1 Speed King (live in Stockholm 1970)
2 Child In Time (live in Stockholm 1970)
3 Paint It Black (live in Stockholm 1970)
4 Black Night (live in Stockholm 1970)
5 Strange Kind Of Woman (live in Long Beach, California 1971)
6 Burn (live Graz 1975)
7 Stormbringer (live Graz 1975)
8 The Gypsy (live in Paris 1975)
9 Mistreated (live in Paris 1975) incl Rock Me Baby
10 Smoke On The Water (live in Long Beach, California 1976) incl Georgia On My Mind
11 Going Down (live in Springfield, Massachusetts 1976)
12 Highway Star (live in Long Beach, California 1976) incl Not Fade Away
13 When A Blind Man Cries (live in Japan 1993)